On Tuesday, I profiled Kari Lake's lawsuit against Katie Hobbs and a slew of other corrupt bureaucrats in Maricopa County, including the entire Board of Supervisors and Bond villain, Stephen Richer, who poses as Maricopa County's recorder. Since so many of my readers considered it worthwhile to have so much legalese broken into small, coherent chunks, I've decided I may just profile the rest of the cases.
Here, I resume with Arizona State Rep. Mark Finchem's lawsuit against Adrian Fontes, who has been certified as the "winner" in the Secretary of State race by a margin of 120,208 votes, Ruben Gallego, the incumbent U.S. Representative from AZ-03, and Hobbs. Finchem dropped the 20-page suit (118 pages with exhibits and attachments) on December 9 with U.S. Congress candidate Jeff Zink, Gallego's opponent, who has since withdrawn from the suit.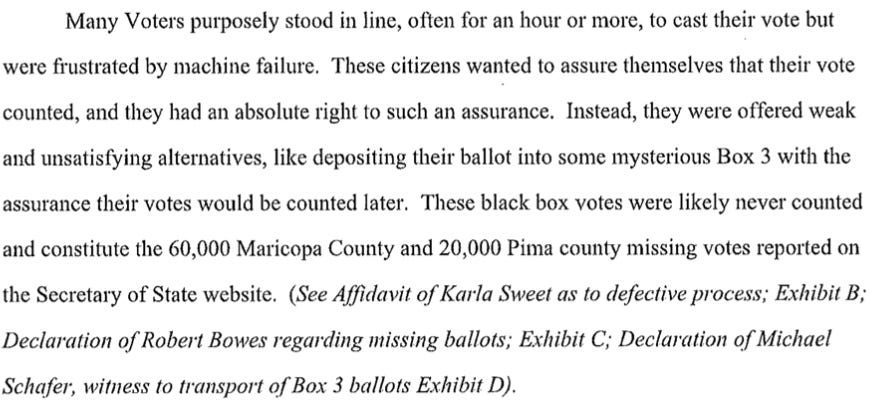 On page 2, above, Finchem lays out the same basic points seen in Lake's suit, that Maricopa County ran a national embarrassment of an "election," and suggests 60,000 ballots in Maricopa County and 20,000 in Pima County (home to metro Tucson) vanished from the "to be processed" tracker on the Secretary of State website.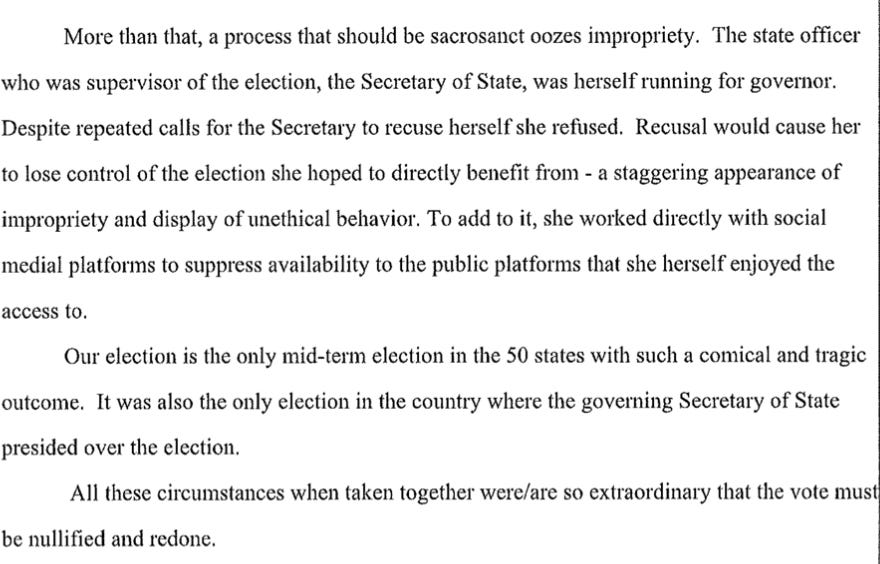 On page 3, Finchem draws blood by telling it like it is – that a basement dwelling, political no-name with no meaningful accomplishments (Hobbs) ran her own election because there was no way in hell that she could top a candidate like Kari Lake, and by extension, that the rest of the Democrat ticket would best the statewide Republican candidates without some serious cheating.
On page 5, the contest grounds begin. Finchem's team contests that the certified vote totals are unreliable because tabulation machines were not properly certified, nor were they replaced in the aftermath of the 2021 Maricopa County audit.
Underscoring just how lawless Hobbs is, misconduct allegations begin flying on page 5, and don't cease until page 12. Some highlights:
Her deliberate or negligent failure resulted in the uninspected and unverified machines to have widespread failures across the State causing election result chaos (page 7).
Hobbs abused her office of Secretary of State by threatening county officials with criminal charges and indictment for failure to certify a defective election process (page 7).
Team Finchem hammers Hobbs for intimidating county supervisors who were hesitant to certify compromised elections, focusing on Mohave and Cochise Counties.  Mohave County certified their election "under duress," a shocking admission.
Continue reading: https://skeshel.substack.com/p/a-comprehensive-guide-to-mark-finchems